View
Image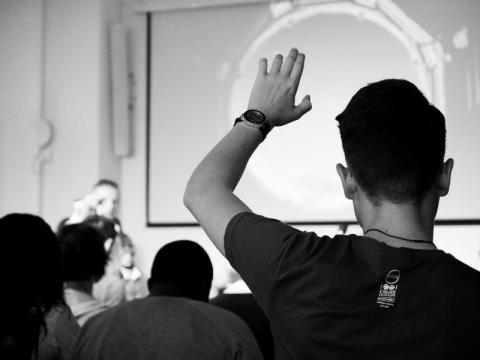 Main text
As educators start planning for the post-pandemic era, many are reassessing the role of the lecture for teaching large cohorts of students.
The term "lecture" can cover a wide range of instruction modes. But when people debate the future of the lecture, they are generally referring to the traditional teacher-centred pedagogy focused on an instructor at the front of the room "lecturing" to the students, who are seated in rows, passively gazing into the middle distance.
While some lectures still align to this type of delivery, the shift to online teaching caused by Covid-19 has opened opportunities for institutions to reimagine their approach to education. The lecture has come into focus as a pedagogical approach that is perceived to be at odds with online delivery, which requires a more student-centred approach.
However, talk of scrapping the lecture is misleading – what online teaching has highlighted is that we simply need to adapt and enhance the way the lecture is delivered to ensure better learning outcomes for students.
Student-centred pedagogy
As we reimagine our pedagogical approach, we must first reflect on our learning objectives. How do we deliver the necessary knowledge, skills and behaviours that students will need as we enter the post-pandemic world?
This may, in some cases, result in a traditional lecture; for inspiring, motivating and agenda-setting topics, a lecture still has relevance.
But for effective transfer of knowledge, we need a highly scaffolded and blended curriculum that incorporates well-designed media, opportunities for students to check understanding and apply it in new contexts and real-world settings and, lastly, provides collaborative discussions.
Moving from a teacher-centred to student-centred pedagogy requires a fundamental shift in approach and willingness to innovate, not simply replicate existing practices either online or in person.
The active lecture
Because of set timetables, staff availability and other factors, instructors often face limits when redesigning their teaching, many of which are out of their control.
Having faced this dilemma myself, my solution was to convert my large cohort lectures into "active lectures". These blend the traditional lecture with an evidence-informed pedagogy that benefits all students.
The active lecture:
re-evaluates the specific learning objectives for the teaching session and ensures the content delivered is focused on these areas
ensures the accompanying media, whether slides or short video clips, are chosen to support the learning objectives, designed in accordance with evidence-based instructional design principles, such as the cognitive theory of multimedia learning, and contains opportunities for student interaction and discussion
is complemented with a wide range of supplementary material that can be accessed either side of the timetabled session to reinforce and consolidate necessary information
has space for checking in with students to gauge levels of knowledge and understanding throughout the teaching session, to inform the content being delivered in real time
uses suitable, accessible in-class technology, such as mobile phones and tablets, to facilitate continual engagement and interaction with students, check their understanding and use a range of media, without being limited to front of stage.
Create curriculum space for discussion
Students come to university for peer interaction, to forge friendships, to seek career-enabling opportunities and to take full advantage of the campus experience, so create space within your teaching for peer-to-peer interaction and collaboration.
Students studying remotely coalesce to watch pre-recorded content and exchange ideas – we should facilitate this practice online or on campus. We must promote and enable a sense of community that so many students yearn for, by creating digitally enabled learning spaces for students to access learning resources and collaborate with their peers.
Build time into your curriculum for students to engage with pre-prepared material and link it to clearly defined follow-on activities. This will help students organise, complete and grasp the relevance to their work before attending the timetabled sessions where the content is to be discussed.
For group discussions to be worthwhile, students need to have acquired the knowledge necessary for meaningful contributions. This also helps ensure students lacking in confidence are not misled by misinformed and vocal peers. Although these misunderstanding can be remedied, it brings inefficiency into the teaching, risks students losing confidence with this pedagogical approach and needs careful facilitation by the instructor.
Online or on campus: the same rules apply
If we redesign lectures with a student-centred approach so that we actively engage students by including interactive elements and space for students to check, apply and discuss knowledge, we will see improved learning outcomes whether online or on campus.
James Pickering is professor in anatomical education at the University of Leeds.
If you found this interesting and want advice and insight from academics and university staff delivered direct to your inbox each week, sign up for the THE Campus newsletter.
Standfirst
Online teaching offers valuable insight into effective pedagogy that will remain useful long after the pandemic is past, according to James Pickering, who outlines the key lessons to improve teaching design and delivery