View
Image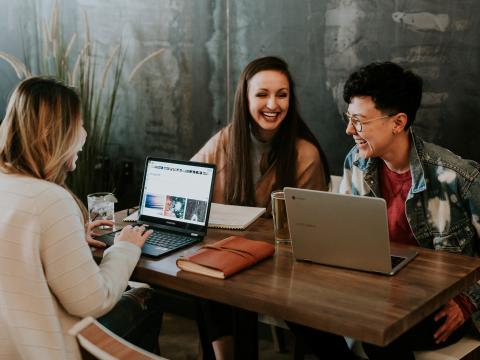 Main text
Building a community online supports students' socio-emotional learning. This helps them understand how they and others think and feel about things – and how to manage those thoughts and emotions.
This type of learning is particularly important in times of crisis when socio-emotional distress, such as loneliness and anxiety, can erode cognitive capacity. Learners experiencing trauma tend to struggle with managing time and meeting deadlines, and feel a higher cognitive load.
The pandemic trauma and social distancing means we, as educators, have a responsibility to enhance our socio-emotional digital literacy to reach learners and motivate them remotely.
There is no one-size-fits-all way to build a sense of community online. So, try these practical tips for building community, adapt them to your purpose and style, and see how students respond.
Intentionally equitable hospitality
Consider your role as "host" of the learning space, recognising that not everyone in class has the same resources or goals. Anticipate but also learn about differences among your students. Survey students early on to find out what access they have to devices and the internet; ask questions about what motivates them and geographic questions such as where they live if you have learners in different time zones. Listen to your students throughout the semester, whether in class sessions or regular surveys.
In a twist on the golden rule, American educator and philosopher Nel Noddings wrote: "Do unto others as they would have done unto them." Give learners choices where possible in terms of how they access content (for example, if it's written or visual) as well as how they express their learning (for example via a podcast, mind map or an essay) and the topics they can research. These are the principles of the universal design for learning, which aims to optimise teaching for all people whatever their unique needs, interests or preferences.
Remain aware of potential inequities as they arise and be willing to redress them in ways that students find helpful. For example, if students have connectivity issues and miss synchronous classes, make sure you have an alternative such as a recording of the session or small online discussion for those who missed the live class.
Enable meaningful introductions
Make room for students to introduce themselves meaningfully to each other with activities that encourage this. Asynchronous introductions allow people to choose how to present themselves to others, and go back to it later. Remember that some minority students may not feel "safe" in spontaneous introductions and activities early in the semester. Consider the potential risks and worries for students being asked to share information with their peers online.
Use friendly language
Use personal and friendly syllabus language when you can. If you can't, create an open letter to your students or a welcome video to give your classes a human-centred tone from the start.
Create semi-synchronous 'third places' for communication
To help students stay connected as a community, create a semi-synchronous "third place", neither a formal school space nor a home space, where everyone in class can "chat". If people chat using a phone app at the same time, asynchronous tools such as WhatsApp and Slack can feel synchronous. Almost all faculty and students who have used this have found it helpful, and it works with low bandwidth. Encourage students to post jokes and GIFs, not just class-related questions and content.
Regularly check in and warm up
In every class, I ask my students: "How are you feeling today?". I don't want them to say: "Fine", so I use different techniques for "checking in" and explain trauma-informed pedagogy to help them understand the challenges we are going through. I also do class warm-up activities in each class such as "Mad Tea Party", a game-like activity in which students complete reflective sentences, and "Spiral Journal", an activity in which students share written reflections. You could consider doing a group meditation for five minutes or sharing from a gratitude journal.
Co-create participation guidelines
If your students are familiar with this idea, co-create participation guidelines with them. If not, show them your suggested guidelines to discuss and revise as a group. This ensures everyone is comfortable with the agreed codes of conduct.
Discuss cameras on or off
If your classes are largely synchronous, there are important equity considerations related to students' comfort, access and camera use. I surveyed my students: about half kept their cameras off for connectivity reasons, but many felt less comfortable speaking with cameras on and yet they were very engaged throughout the semester.
Remember that you need to connect with students' voices and thoughts, not their faces. Think about ways of engaging students that don't require cameras to be on, such as participating in the text chat, typing in a Google doc or working in breakout rooms before presenting to the main room. Consider asking students to set up profile pictures so you know what they look like, even if not how they're looking right now.
Try liberating structures
For in-class discussions, well-structured small-group conversations in breakout rooms that they then report back to the whole class make a huge difference. Liberating structures are techniques that help with this, and work well online. For example, "Troika consulting" has students give consultations to each other in trios in quick bursts encouraging peer-to-peer learning and support. "Conversation café" is a technique that ensures everyone has fair time to speak on the chosen topic and avoids conflict.
Create asynchronous, low-bandwidth collaborative opportunities
Facilitate structured dialogues between students on the phone and create a collaborative literature review matrix in which students share their thoughts on their recent reading via a shared Google doc or similar. This can result in a rich source of ideas and interpretations.
Model humanity
Don't be afraid to show your human side and vulnerability to students from time to time. As author bell hooks says in Teaching to Transgress: "Empowerment cannot happen if we refuse to be vulnerable while encouraging students to take risks. Professors who expect students to share confessional narratives but who are themselves unwilling to share, are exercising power in a manner that could be coercive."
Maha Bali is associate professor of practice at the American University in Cairo's Center for Learning and Teaching. She is also co-founder of virtuallyconnecting.org and co-facilitator of Equity Unbound.
If you would like advice and insight from academics and university staff delivered direct to your inbox each week, sign up for the Campus newsletter.
Standfirst
Maha Bali offers practical advice on building equitable learning communities online no matter what students' bandwidth or synchronicity of the class