View
Image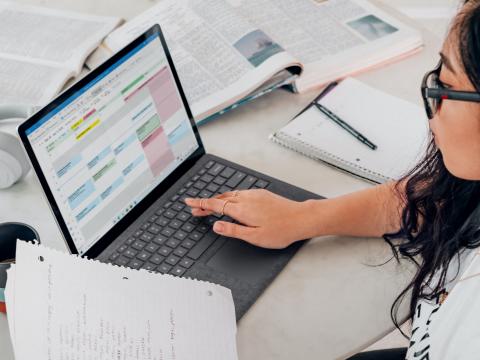 Summary
Effective assessment online requires a different approach to traditional proctored exams. Here Sara Clarke and Katy Dumelle of Oregon State University share the different methods they have found effective for assessing written work remotely, filmed as part of REMOTE, the connected faculty summit. The virtual event showcased best practice, techniques and tools for online teaching in higher education. If you're in a rush, browse the timeline below for the key topics covered and where to find them in the video.  
03:19 An overview of non-written online course elements 
04:46 Methods of assessing written homework 
11:12 Benefits and considerations of the two key options for assessing homework 
13:25 How to carry out exams online using Gradescope 
18:32 Structuring courses effectively using Learning Management System sites – using Canvas as an example 
21:11 Is there a way to remotely administer a closed book exam? 
23:26 How to deal with students who don't have smartphones, cameras or a scanner to upload or submit work 
24:26 The apps that students like to use to scan and upload work 
24:56 Can students choose between assessment options on their course? 
25:22 Can instructors make exceptions for late or early submission on Gradescope? 
25:56 What other tech is integrated with Gradescope? 
26:59 What to use for adaptive homework online 
27:12 Using a rubric for grading reflections 
28:36 Are there any FERPA issues in using Gradescope? 
29:05 When creating the rubrics for written homework how much weighting do you give to the content versus formatting and references? 
This video was produced by REMOTE, the connected faculty summit, hosted by Arizona State University.  
Standfirst
Hear about some tried and tested methods for effective assessment of written work when teaching online from Sara Clarke and Katy Dumelle of Oregon State University