View
Image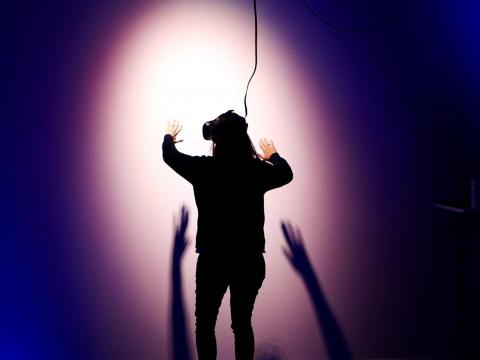 Summary
This video will cover:
00:12 Challenges of recording video for online teaching
00:40 What you need to use virtual reality for recording videos, and how it works
01:46 The advantages of using virtual reality to record videos for online classes  
Transcript
Hello, my name is Kojiro Yano. In this video, I'm going to talk about how to use virtual reality for producing simple instruction videos using an avatar.
When you're teaching online, producing instructional videos is a challenge. You can record a screen with a voiceover like this, but it can be a bit boring for students to watch.  
You can also prepare a recording studio and record yourself using a video camera. But when you're recording from home having such a studio is not always practical.
On the other hand, recording can be a lot easier if you are using virtual reality. The set-up is very simple, all you need to have is a stand-alone headphone display, like this, and the software which allows recording in the virtual space.
Here I'm going to introduce an app called Virtual Presentation Space, which I developed myself, and in fact this video is being recorded using this app.
In this app you can choose an avatar and put yourself in a virtual recording studio, in which you have a virtual camera and virtual screen to show your slides.
This video shows how your movement in the real space is captured and recorded in VR. 
The recording happens as you speak and when you finish your presentation, a video file will be ready for you to use.
Using virtual reality to record instruction videos has a few advantages.
First, you get the recording wherever you want to. You can record in your bedroom, you can record in your hotel room, or you can record in the bathroom if you want to. Any quiet space can be your recording studio.
Second, it is so easy to prepare yourself for recording in VR. When you're using VR, you don't have to worry about how you look, you don't have to worry about lighting or the mic settings to optimise the recording, because in virtual reality the recording environment is always the same.
And another advantage is you can make a video more inviting using an interesting avatar.  
In this video, I'm using a skeleton avatar to teach human body skeleton structure. As you can see, you can use your own body quite effectively to teach the structure. This is very simple but quite helpful for students who are not familiar with the subject.
Interested? Then you should try. Happy teaching in VR! Goodbye.
This video was produced by Kojiro Yano, associate professor in the Department of Network Design at the Osaka Institute of Technology.
Standfirst
Avatars can be a useful tool when recording lectures and classes for online teaching. Here, Kojiro Yano describes how he uses virtual reality to make recording avatar-led online classes easier