View
Image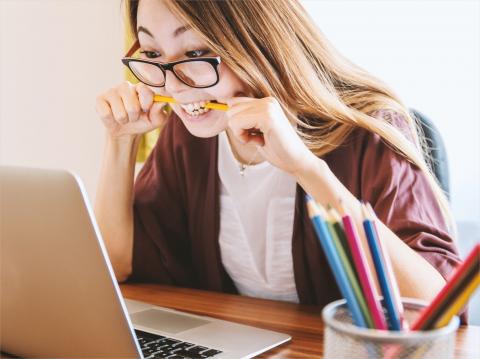 Main text
Demands being placed on academics to completely redesign their courses to teach online and grapple with new techniques and technologies, while continuing to carry out all their usual research and attend back-to-back Zoom meetings, are not sustainable, according to a professor of psychology at the University of Cambridge.    
Hundreds of academics on Twitter responded to her statement with advice about how colleagues might alleviate some of the burdens of the new working environments.  
Sarah-Jayne Blakemore, a professor of psychology at the University of Cambridge and leader of the Developmental Cognitive Neuroscience Group, sparked the outpouring of advice with a tweet that said: "I am reading tweets from academics saying they are overwhelmed with increasing workload and all day zoom calls. I feel the same. It's not sustainable and there's going to be a lot of burnout if we don't manage it. Any suggestions of how? Reduce zooms? One zoom-free day per week?" 
This was met by hundreds of responses from fellow academics, offering suggestions and solutions for better managing work schedules and ensuring the long-term sustainability of online teaching models. 
Here, THE Campus has compiled the most helpful tips for avoiding digital teaching burnout:  
Pete Quinn, higher education consultant, @peteqconsult:   
Fake commute pre-work (at home, walk around block), switch Zoom for phone for 1:1 + walk while on the call. Block out lunch (eat device free). Daydream. Still meeting for 1 hour? 40 mins often OK. Don't work on bed. Come off devices 1hr pre-bed. #SelfCareMatters #LifeWorkBalance  
Annette Schlosser, clinical psychologist and academic coordinator at Hull University, @Schlosspsych:  
1. Breaks between Zoom calls   
2. PBL (project-based learning) work for trainees so I can be off camera for a bit   
3. 5-min comfort breaks for all every 40 mins   
4. Stand rather than sit during Zoom calls part of day   
5. Regular herbal teas   
6. Phone meetings to rest eyes   
Aine Carey, teaching and research development librarian at Maynooth University, @Aine_Carey: 
Our workplace is aiming for "meetings minimised Fridays". Also try to avoid going from meeting to meeting – IRL, you couldn't magically transport yourself straight into new f2f meeting from another meeting, you'd at least need 10-15 minutes to get to the next meeting.  
Jay Van Bavel, social neuroscience professor at New York University, @jayvanbavel:  
We need to push back against this nonsense! I've moved most of my Zoom calls to phone calls and pressured our admin to cancel some non-urgent meetings until after the pandemic.    
Nancy Hey, executive director at What Works Centre for Wellbeing, @Work_Life_You:   
What did people do before? Back-to-back meetings? All-day meetings? Put in time between meetings in diary, all-day meetings in two chunks am/pm, go "bursty" times with lots of connection with busy time without. What happened to the conference call?  
Kat Alcock, clinical psychologist and principal clinical tutor at UCL, @KatClinPsy:   
1) Blocking manageably spaced "bookable slots" in my diary. When they're gone, I have no more capacity.   
2) Aiming for one meeting-free day per week, when possible.   
3) Reminding myself that if I say "yes" when I have no more capacity, then I am this cat: https://youtu.be/z7Cr4VZ5Y1A  
Alyson Indrunas, executive director of teaching and learning at Lumen Learning, @AlysonIndrunas  
I've advised folks to set up actual phone calls where everyone agrees that you're going to talk on the phone, no screens & then you walk outside or on a treadmill. Or schedule "heads down" daily time where you won't have meetings. It's the only way to sustain and/or survive this.  
Estee Torok, senior program officer in surveillance, data and epidemiology at the Gates Foundation, @EsteeTorok: 
I try to have "meeting free" Fridays, which enables me to catch up on all the actions from the previous four days' meetings  
Jason Velez, lawyer, @1LAW:  
Better home studios. Sitting down in front of the computer is very straining but standing up and delivering a presentation-style video would be much better. Good speakers (audio) and chats to your phone will help you stay engaged with the students projected on your wall or TV.  
Micah Allen, neuroscientist at the University of Cambridge, @micahgallen:  
I'm saying no to all but the most important Zooms. Frankly, we need to remind ourselves that a short telephone call is more than sufficient for 90 per cent of meetings. It's quick and easy and worked well for, like, three entire generations.  
Daniel Masterson, chartered psychologist and assistant professor at Jönköping University, @DrDanMasterson:  
It is hard to change behaviour during a crisis and when overloaded, taking time to stop and reflect seems madness. @helenbevan shares really useful tips on this topic – a key takeaway for me is to make as much content as asynchronous as possible. Shared documents, teams, etc.  
Professor of nanomaterials, University of Oxford, Nicole Grobert, @NicoleGrobert:  
To keep sanity, book one research day, one videoconferencing-free day per week. It feels like everything then takes forever or turns into mission impossible, but that's an artifact if at the end one stays mentally and physically healthy!  
Professor of psychology and human genetics, Virginia Commonwealth University, Danielle Dick, @DrDanielleDick: 
Even before the pandemic I have always limited meetings to 3 days/week so that I can have at least two days to read/write.  
Lecturer in psychology of education at University of Manchester, Dr Ola Demkowicz, @ola_demk: 
I have a Zoom-free day once a week and I've started keeping one week every month "meeting-lite" where I only have student tutorials and absolutely urgent meetings. I've only been doing that a couple of months but it's already keeping me sane – I have NO meetings next week.  
Simon Bignell, senior lecturer in psychology at University of Derby, @MiltonBroome:  
1) Allocated learning technicians to individually support teaching staff.   
2) Crafted templates to make the role of online content delivery as seamless as possible.   
3) Strict working hours rules. Technology can stress or enhance teaching but it takes investment & understanding.  
Alexis Didier'Serre, health protection practitioner at Public Health England, @AlexisBeeching:  
Meeting etiquette needs to be taught. There's so much unnecessary chit chat, going off topic. Strong chairs need to keep people in check. Don't repeat for late comers. Send participants away with action plans and deadlines.  
Standfirst
Many academics are at risk of "burnout" after working around the clock to move their courses online. A tweet on this subject sparked a flurry of responses offering advice and solutions to faculty overwhelmed by heavy workloads