View
Image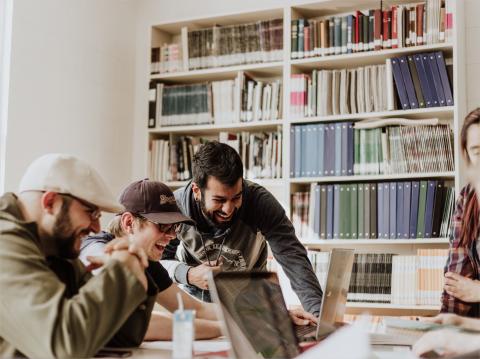 Summary
This video will cover: 
00:17 Why and how to focus on learning outcomes when designing online classes 
01:22 How to encourage students to interact with their course material, peers and tutor online.  
03:50 Building in elements that enable varied forms of participation at different levels 
Transcript
I'm Sara Wolfson and I'm a staff tutor and lecturer in history at the Open University.   
I'm going to talk to you now about how to design an online course centred around interactive teaching. I'm going to offer you four tips that I hope you'll find helpful.  
Well, firstly then, in making this move online, it's really important for academics to bear in mind that, while the pace of online teaching, well, it is different than the traditional lecture room or seminar room setting, the outcome should always be the same – that is to offer a really high-quality learning experience for your students.  
So, my first tip is really the simplest: the focus should always be on deep learning and learning outcomes, rather than the technology that you now have at your disposal.   
So, don't feel overwhelmed or under pressure to use all the different features that various teaching platforms offer. But just make sure that you feel comfortable with the technology that you are using, and that you understand the pedagogical reasoning behind the task that you're asking your students to complete.  
So, for instance, enabling the whiteboard feature acts in exactly the same way as a Post-it note, or getting your students to write on big sheets of paper or on a whiteboard in a physical seminar  room setting.  
And this brings me to my second tip:   
How do you actually get your students to start interacting online with the subject material, with you as the tutor and also with their peers?  
Well, it's really important for lecturers to recognise that they will need to spend time getting their students to feel comfortable working in this virtual online space.  
And this point cannot be underestimated enough because students, like academics, they may start to feel quite uncomfortable moving online for their higher education. And it's up to lecturers  to guide them and help them along.  
So the pedagogical ideas of Gilly Salmon and a five-stage model, well, they're really helpful here.   
Salmon talks about the need to teach students to socialise online together before moving on to more serious educational elements, such as the exchange of information and the construction of knowledge. 
So online icebreakers are really helpful here, as are online forums, wikis, breakout rooms – all great ways of getting your students to interact with each other.  
And these type of exercises, well, they allow students the chance to practise becoming comfortable using various online tools, and building up their confidence in doing so as well.  
And once your students start to feel comfortable working in this online way, my third tip is for you to start really nurturing this sense of academic learning community that you've helped to foster.  
So this type of learning, it moves the tutor away from a lecture-led approach of imparting knowledge towards a learning space where knowledge is collectively constructed together.  
So perhaps you might consider working with your students to build up the session. Could you bring in evidence for them to analyse within the session itself? Or could you direct them to online academic databases?  
I myself had great success working with my undergraduates on online archival material available with the National Archives, to recreate the trial of Charles I. And this type of activity could easily lend itself to breakout rooms, and then bringing students back in to the main session to recreate the trial.  
And, of course, you could use this type of technique for online debates as well.   
And this brings me to my final tip: Participation, in whatever form, is interaction.  
There's a lot of debate at the moment on social media about whether we should encourage our students to put their videos on, do we expect them to engage with the chat box?  
Should they have their microphones on? Or can they be just allowed to spectate silently and  invisibly but still interact? And if so, how can this be enabled?  
Well, these are big questions and lead into other areas such as confidence, disability, widening participation, and so on, that tutors do need to be mindful of.   
So, building in anonymous elements like online polls and quizzes to test knowledge, or enabling features like drawing on the whiteboard, like I previously mentioned, or even drawing on the Powerpoint anonymously when teaching is actively in session, are great ways of allowing your students to interact anonymously, that may be welcomed by many of your students.  
So, I think that the key element is really to recognise that students cannot be forced to interact with each other in the same way, and simply participating for many students in an online session is already an achievement in this Covid age.  
So thank you and I hope that these tips are helpful. And remember, it's your job as a facilitator of learning to guide your students through this variety of practices in a gentle manner. Happy teaching. 
This video was produced by Sara Wolfson, staff tutor and lecturer in history at the Open University.  
Standfirst
Interactive learning is an effective way to keep remote students engaged with online courses. Sara Wolfson offers four tips on how to design classes with a strong focus on interactive elements